PRINCIPAL'S MESSAGE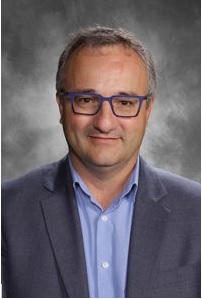 It is my privilege to be the principal of Shauna May Seneca, a vibrant school serving students from kindergarten through grade nine in southeast Edmonton. As a school, we strive to be a caring, welcoming, and inclusive environment committed to honouring the values of community and diversity, both of which were exemplified by the work of our school's namesake.
At Shauna May Seneca we celebrate the uniqueness of each student. We work diligently to enable all of our students to achieve their full potential, both as learners as well as leaders equipped to contribute to their communities. Our effectiveness in reaching our goal is enhanced through strong partnerships with our families and community organizations. Through focussed collaboration and investing in relationships, we hope to inspire our students to develop their skills, discover their passions and achieve their dreams.
We are excited about the growth we will see in our students this year and look forward to building an even stronger community. Welcome to our school!
Dan Vandermeer
Principal
NEW STUDENT REGISTRATION
A student registering at Shauna May Seneca School must meet the criteria of living within our designated area and must be a resident. A student is considered a resident of Edmonton Public Schools if they have at least one parent who lives in Edmonton who is not Roman Catholic. If the student you are registering meets these criteria for the 2023-2024 school year and is new to Edmonton Public Schools Visit the Division website to learn how to register for school.
Lottery process at Shauna May Seneca School
For Kindergarten, Grades 1 and 2, we are now full and will no longer be able to accept any new enrolment requests. For these grades, we will be keeping a callback list. If you are interested in having your child placed on this list, please contact the school.
Edmonton Public Schools reviews enrolment and programs at all schools in our Division each fall to monitor growth and see where schools are on the Division's Growth Control Model. After carefully reviewing our enrolment this fall, Edmonton Public Schools has determined our school is in a lottery process for new resident students enrolling at our school for the 2023–24 school year. This will not impact current students who attend our school.

The school will not accept new registrations from families in the attendance area if the student is not a resident of Edmonton Public Schools. A student is considered a resident of Edmonton Public Schools if they have at least one parent who lives in Edmonton who is not Roman Catholic.

Resident students who aren't selected through the lottery process can attend the overflow designated schools, Grace Martin (K-6), Edith Rogers (7-9), a school with space in planned classes, or remain at their current school, if applicable.

Siblings of current students attending our school
New resident students from the attendance area with a sibling who is returning to the school next year will get priority, but are not guaranteed to attend.

More information about the lottery process
Watch the Growth Control Model video for an overview of the lottery process. You can also read more about the lottery process on the Edmonton Public Schools website. If you have any other questions, please contact our school office at 587-489-4722.